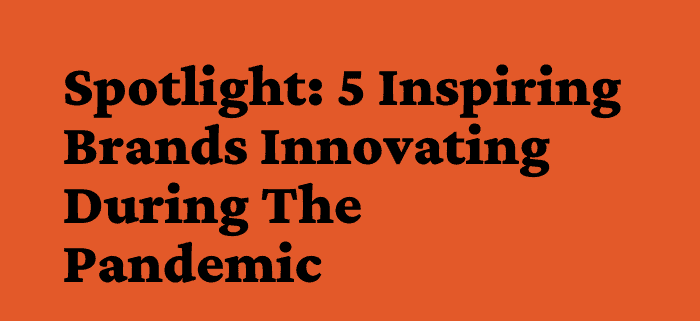 The pandemic has tipped over almost all aspects of life by now, and most businesses and corporations have had a few months to get their post-pandemic realities in order.
McKinsey recently conducted a survey of over 200 industry-wide companies and found that over 90% of executives expect COVID-19 to change the way they do business over the next five years.
But what does that mean?
Well, for starters, we know that the vast majority of businesses agree that innovation isn't a nice to have anymore, but a must.
But only 21% said they have the expertise, resources or commitment to take the new challenges in their stride. Two out of three of the executives believe the next five years will be the most difficult period of their careers.
So, the opportunity and space to innovate are there. It's just that few people in the right positions feel equipped to pursue it.
Despite that, a number of businesses and brands have found innovative ways to cater to this new reality—some have reinvented their own product, and others have found completely new ways to serve their customers in the middle of a pandemic.
We've rounded up some of the most inspiring cases of corporate innovation we've seen since it all began:
5 inspiring brands innovating during the pandemic
Lidl's chatbot to help shoppers find quietest times
Lidl Ireland took an innovative approach to improve their services once the pandemic broke out.
The budget supermarket now helps customers find the quietest times in the day to do their weekly food shop, thanks to a new chatbot on their website.
Particularly useful for the elderly and immune-compromised (although we can all benefit from this), customers simply send Lidl a message through WhatsApp and the chatbot instantly replies with up to date insights about the store.
By analysing real-time data about their shoppers' behaviour and transaction numbers over the course of a few weeks, the Lidl team were able to find the trends in quietest times to visit the store. This innovative and smart approach means customers can plan their shopping in a way that suits them while feeling safe and at minimal risk.
2. Safety stations in Zurich and Brussels
The most important thing businesses can do right now is to listen to their customers' changing needs—and respond to them.
Personal protective equipment (PPE) have become widely available, but depending on where you are, finding a decent hand sanitizer can be inconvenient, not to mention in low supply.
Selecta, a vending solutions provider came up with an innovative solution to this with new 'Safety Stations', designed to stock coronavirus essentials like hand sanitiser, face masks and disposable gloves.
So far, Zurich Airport in Switzerland and Brussels train station in Belgium are one of the first places to stock the machines. People travelling in and out of the city can grab whatever sanitising items they need for the journey in an easy and safe way, 24/7.
3. Milliken: back to work social distancing carpets
What do you do if you're a floorcovering company during a global company? Make carpet tiles to help us distance, of course!
Milliken, a floorcovering company with global offices and HQ in South Carolina, came up with an inspiring COVID-inspired innovation to help people maintain physical distance while at work.
The carpet tiles to aid social distancing include eyecatching graphics like footprints and brightly coloured arrows to help people move around their offices with the new distancing rules and closed off areas.
"Social Factor brings safety messages to life with lively and imaginative design treatments created to promote a spirit of positivity and commitment to a safe and healthy workplace,"
The Social Factor is such a great innovation because it brings genuine reassurance into a situation that makes returning to the office a worry for most people. The company have launched an entire collection for businesses to choose from, with key messages like "Don't Get Too Close To Others", "Walk In This Direction" and "Use This Exit". You can see the full collection on the website.
4. Technopath: fighting medical waste
The innovative team at Technopath, an Irish company in Tipperary solved an environmental disaster during the pandemic.
National Institutes of Health tells us coronavirus can survive on plastic and stainless steel surfaces for up to three days—and with COVID-19 infections reaching the thousands each day, something needed to be done.
To combat the risk, Technopath created and launched a technology to break down medical waste that comes from lab testing. The Envetec 200 system both shreds and disinfects any infectious medical waste using a process that kills off COVID-19 bacteria.
The process doesn't require any heat or other chemicals, and the residue that's left is completely safe to handle, can be thrown in a regular bin, and can even be used in certain recycling processes.
5. BrewDog: From beer to hand gel
When the UK issued warnings that hand sanitiser would soon run out, the popular brewery rolled up its sleeves, paused the beer and started making hand sanitiser in their distillery in Aberdeen.
Punk Sanitiser was fully approved by the NHS medical standards and to date, the distillery has packed and donated over 50,000 units to the NHS and local charities.
Rounding up team members from the closed bars, the brewery had to get creative with packaging and containers, packing the hand gel in "anything suitable we can get our paws on, including small beer bottles".
You can read about what the team at Brewdog learned during the process in this letter.
Innovation: the key to survival in the "New Normal"
It feels like there's not much left to say on the topic of COVID-19. It's shaken up the world, smart working is the new future, office life has changed forever and it should have been over in May.
But one thing that actually feels good to say? It's been incredibly exciting watching the world innovate in the face of crisis to find smarter solutions to both new and old problems.
The COVID-19 pandemic is inspiring an adaptive and innovative mindset, with so much of the world coming together in unexpected ways to improve the state of society and make their mark on getting through this pandemic.
So let's carry on innovating and collaborating with each other to keep moving forward during this time, one day at a time.
https://submit.com/wp-content/uploads/2020/09/Copy-of-7-Reasons-Why-Your-Company-Should-Run-A-Hackathon-Yes-You-2.png
700
700
Dee Butler
http://submit.com/wp-content/uploads/2020/10/Copy-of-Final-brand-01-300x88.png
Dee Butler
2020-09-23 09:51:31
2021-01-21 15:39:39
Spotlight: 5 Inspiring Brands Innovating During The Pandemic