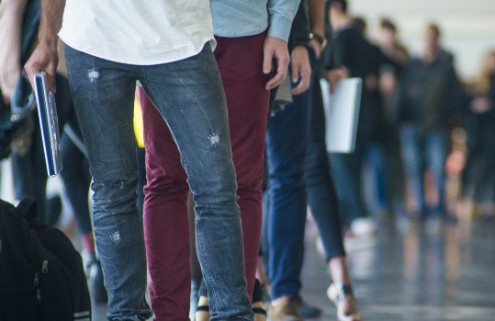 Have you been convinced? Is it time to move to a fully featured TV talent casting software solution? Are you finally sick of wasting time, financial resources, workforce and all the other little issues with your casting process?
You might have an idea what you want that system to do but do you have the time to do your due diligence on every provider out there?
We'll dive deep into each shortly, but the six questions you should ask of a potential TV talent casting software solution are:
How much money will it save us?
Will it save us time?
Will I be able to use it?
Can I save time and meet the candidate virtually?
Can I build a database of talent?
Is it GDPR compliant?
---
How much money will TV talent casting software save us?
Production budgets get thinner each year. You need to justify if a system will reduce your costs. Casting calls traditionally required a vast amount of resources and all the costs associated with same.
Consider how much you're currently spending on a casting agency, a PO box, postage, printing, stationery, a location for auditions, refreshments, transport and all the other increments. Is it an astronomical figure? Does it have to be?
Watch as all these costs quickly dissolve with an online TV talent casting software solution like Submit. Our pricing plans have been carefully designed to match the needs of everyone from smaller production companies to large TV networks. We've managed the submission process for such renowned reality TV and talent shows as; First Dates Ireland, The Voice of Ireland, Junior Eurovision and much more.
Will TV talent casting software save us time?
Where there's a tight budget, there's usually even tighter deadlines. Any system you look to improve your casting process needs to reduce the time spent on tedious administrative tasks drastically.
You no longer need to spend weeks crafting your list of potentials. Combing over their answers and making sure they'd be perfect for TV, only for an executive to dismiss five of them based on hair colour leaving you to go back to the drawing board.
With Submit, everything will be in one place allowing you to streamline your casting call process by eliminating a throng frustrating manual tasks by streamlining your talent casting call process. You can automatically pre-screen talent, send auto-reject messages, move applicants between stages, and a whole bunch more all within the app.
Will I be able to use TV talent casting software?
Great news! This software you're researching will save you money and time. But is it easy to use? If the pressure was at its highest, you want even the least technical team member to feel confident using it.
Web design and coding skills are unlikely prerequisites of your role, so you need to know from the outset you can launch and manage your casting call in minutes without the expertise and expense of IT support or web developer.
Create beautiful customised mobile optimised forms with Submit. We have over 30 different question types with which to populate your application forms. We also accept all the classic file upload types and even integrate with Dropbox, SoundCloud, YouTube and Vimeo giving you the freedom to request whatever you need to make your decision.
Can I save time and meet the candidate virtually?
A candidate might look amazing on paper, but when they step in front of the casting agent or the camera, it quickly becomes a deer in the headlights situation. They freeze, or they're too annoying (even for reality TV), or they're just not right once you're on set.
The right software for your production should incorporate the ability to set up pre-set questions for talent to record their answers. With Submit's recently enhanced video interview technology, it is as simple as dropping a question into your customised application form.
Watching the uploaded videos is as simple as using YouTube. You pull the list of applications in your dashboard, click and let the outstanding talent wash over you.
Can I build a database of talent?
Sometimes you might have just one show in production. Other times, seven are airing at once. Sometimes you're overwhelmed with talent. Other times you are not. This happens especially with newer shows as it takes a whole load more effort to find and cast talent.
Finding a single mother under 35 from Manchester or Massachusetts shouldn't feel like a Lord of the Rings style epic quest. It should be within a few clicks of a mouse.
With Submit, you can keep track of all your active and past casting projects or even find talent to create new show ideas from your private database of previously used as well as untapped talent.
Take First Dates Ireland; they use our TV talent casting software to build a GDPR compliant a database of thousands of single people looking for love. More than enough to sustain the series for many years to come.
Is TV talent casting software GDPR compliant?
You've determined the software will save you money, time, is super easy-to-use and powerful enough to do what you need effectively. You're all set to sign off right? Wrong! If you have any dealings in the EU, you must be mindful of GDPR.
With Submit, you can relax knowing all information gathered is fully compliant with GDPR. We spent a glitteringly fun six months consulting with data protection specialists building additional layers of data protection security and transparency throughout our system. So you don't have to!
---
Any TV talent casting software solution worth its salt should answer all these questions positively. If they don't, it's probably a good idea to continue shopping around.

Want to learn more about Submit? We are the complete Casting Agent's toolkit, offering end-to-end online casting solution for TV, Film & Stage. Speak to one of our senior solutions specialists today and see if we can answer all your questions.
https://submit.com/wp-content/uploads/2019/04/Reality-TV-Casting-Software-Solution.jpg
400
495
Dee Butler
http://submit.com/wp-content/uploads/2020/10/Copy-of-Final-brand-01-300x88.png
Dee Butler
2019-04-11 10:42:15
2021-01-25 20:34:42
6 questions you need to ask of a TV talent casting software